Welcome! We are Kentucky's finest Martial Arts Program specializing in martial arts classes for all ages.
In addition to taekwondo, we also provide instruction and coaching in Competitive Olympic Tae Kwon Do for those wishing to take their martial arts training to competition levels. In addition to our martial arts classes we offer adult Fitness Kickboxing and self defense seminars. We operate in a world class facility with: 5,000 square feet of space, men and women's locker rooms, a private class/stretching room, a pro shop, a spacious parents viewing area, and a children's movie/play room. Please stop in our Crestwood, KY location anytime to talk to someone or just to observe what we have to offer.
It is our goal to "Create Champions in Life". We will diligently strive to assist you in reaching your goals, regardless of the challenges you face. We are dedicated to your success!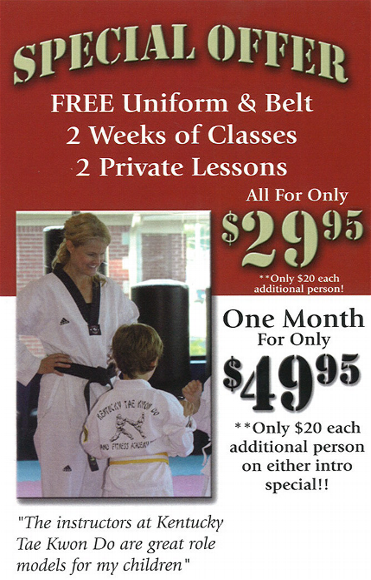 Are you looking for a way to develop your child's character?
Martial arts can be a very beneficial activity for children, especially those needing to burn an abundance of energy, having self-esteem issues, or those who feel they have been victims of bullying.
Or maybe you are looking for an activity the whole family can participate in together. Kentucky Tae Kwon Do and Fitness Academy offers World Class martial arts training for all ages. Whatever the skill level or age of the person, Kentucky Tae Kwon Do can help them define and achieve their goals.
What differentiates Kentucky Tae Kwon Do from others?
Our academy offers quality instruction at a reasonable price.  Don't be fooled by high priced imitations.  Our martial arts classes provide numerous benefits to all individuals, regardless of skill level or experience.  In every class, one will experience the following:
Discipline

Weight Loss

Health and Fitness

Self-Confidence

Fun!

An Excellent Family Activity